ātmavidyā – 2 Registration for course starting 14th April 2020
Welcome to ātmavidyā  – 2 registration page.
By registering you accept to receive ātmavidyā course related notifications.
Please refer to the Terms and Conditions given in this page.
Dharma Sastra, Upasana Sastra and Vedanta Sastra are compulsory.
Out of optional courses, śiṣyās may choose Pada Sastra and/or Yoga Sastra.
The classes will start from 14th Apr 2020.
We wish you a Happy Learning !!!
ஆத்மவித்யாவின் பதிவு பக்கத்திற்கு நல்வரவு.
பதிவு செய்வதன் மூலம் ஆத்மவித்யா பாடத்திட்டம் தொடர்பான அறிவிப்புகளைப் பெற ஒப்புக்கொள்கிறீர்கள்.
இந்த பக்கத்தில் கொடுக்கப்பட்டுள்ள விதிமுறைகளையும் நிபந்தனைகளையும் பார்க்கவும்.
தர்ம சாஸ்திரம், உபாசனா சாஸ்திரம் மற்றும் வேதாந்த சாஸ்திரம் ஆகியவை கட்டாய படிப்புகள்.
பத சாஸ்திரம் மற்றும் யோகா சாஸ்திரம் ஆகிய விருப்பப்பாடங்களை , நீங்கள் விரும்பியபடி தேர்ந்தெடுக்கவும்.
வகுப்புகள் 14 ஏப்ரல் 2020 முதல் தொடங்கும்.
வாழ்த்துகள் !!!
Course Dates:
11 Feb 2020: Announcement by Pujya Sri Swamiji for ātmavidyā second batch.
15  Feb 2020: atmavidya.online web site will be operational.
01 Mar 2020: A general course will be available for registered śiṣyās which will contain preliminary reading and samples of eLearning modules.
30 Mar 2020: Registrations will close for ātmavidyā – 2 batch.
14 Apr 2020: ātmavidyā – 2 courses will be available for registered śiṣyās.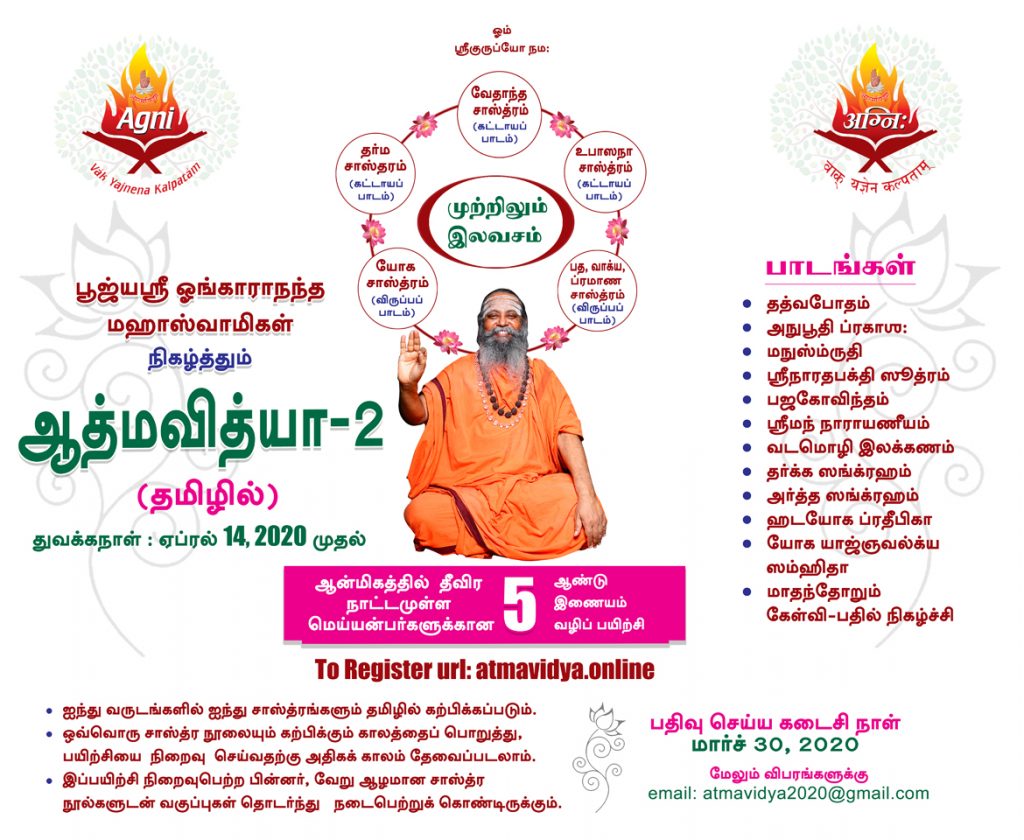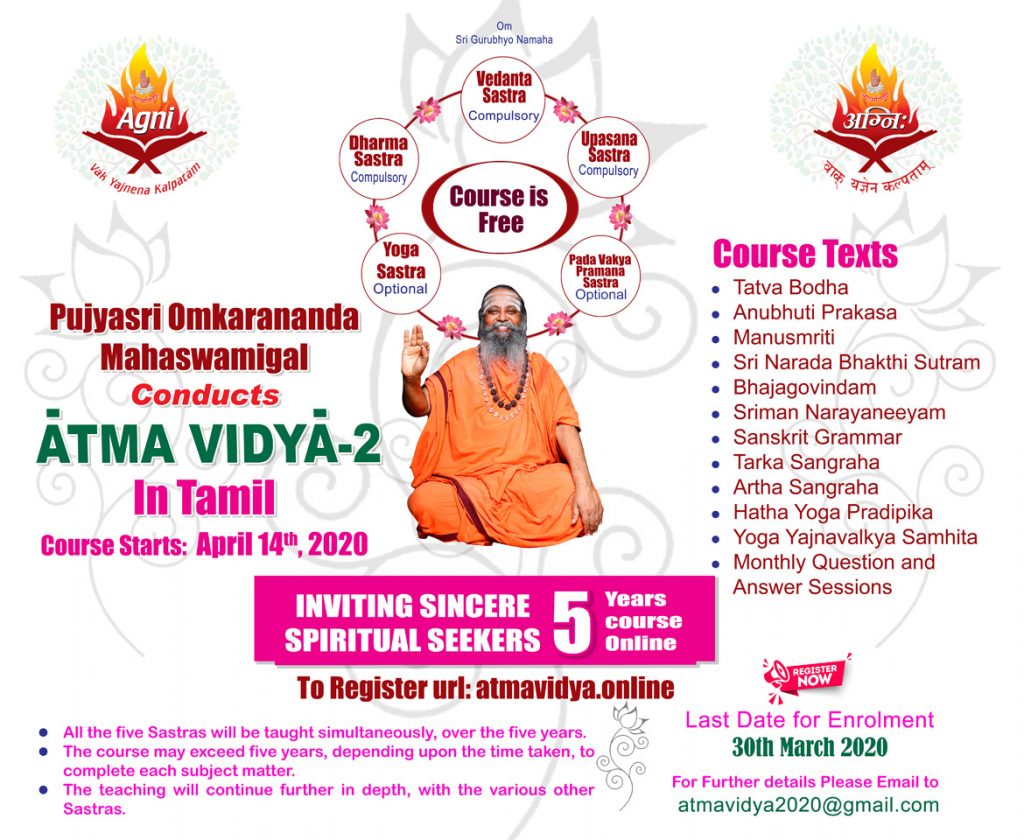 Terms and Conditions of Enrollment:
Every enrolled student should attend at least three mandatory classes – Dharma Sastra, Vedanta Sastra and Upasana Sastra. Yoga Sastra and Pada Vakya Pramana Sastra are optional.
Students should attend the classes on the scheduled date.
Students can proceed to the next class only after completing the current class. They can refer to all previous classes.
If a student does not attend classes for 5 continuous classes, their enrollment shall be cancelled.
Classes will follow Tamil calendar. No classes on Amavasyai, Prathamai, Ashtami, Thrayodasi, Chaturdasi and Pournami.
Each class will contain questions which students must answer. This test is only to guide the student to assimilate and internalise the knowledge more effectively.
On the successful completion of each year of the study, students can attend the annual 3-day camp, in Vedapuri Ashram, Theni. Pujyasri Swamiji will directly address the students.
Should have dedication, deep Sraddha in the Hindu Dharma and should have the willingness to objectively analyse and understand the teachings of the Sastras.
Medium of teaching ātmavidyā is in Tamil.
Should have a routine that adheres to the Dharma Anushsthana.
Basic Sanskrit knowledge (optional).
Prior exposure to some of the basic texts of Vedanta, like Sadhana Panchakam will be helpful.